Future Star of Today: Mat Latos
It's been awhile since I posted "Future Star of Today" entries. My previous ones are about Wade LeBlanc, Aaron Cunningham and Matt Antonelli. Today's entry dedication goes out to a young ace, Mat Latos.
Mat grew up in Florida and was drafted by the San Diego Padres in the 11th round, 333rd overall, of the 2006 Major League Baseball Draft. In 2007, he already started his professional career with short-season Class A Eugene Emeralds when he was only 19. A year later, he spent time in Eugene again but got promoted to Class-A Fort Wayne Tin Caps. Last year, he was invited to join the Padres spring training. He started the 2009 season in Fort Wayne and was promoted to Class AA San Antonio Missions. His overall record for the Missions was 5-1. Couple of months later, he was selected to play in the 2009 All-Star Futures game and made his major league debut on July 19 against the Rockies.
Sounds like a stunning young pitcher, but Mat also suffered with difficulties. Throughout his minor league and even beginning of his major league career, his flamboyant and cocky attitude caused an unfriendly relationship with the veteran players and even coaches. Mat believed that his phenomenal pitching and confidence meant everything in the baseball industry. He learned that listening carefully to the veterans and taking their advice will not only make him a better pitcher, but a better person overall. For example, pitcher Heath Bell even yelled at Mat because Heath wanted Mat to become the best pitcher he could be. The hard lessons from not only Heath, but other well-experienced players allowed Mat to mature as a pitcher. He leaned how to trust other players and being patient on the mound from the veteran players. The 22-year-old pitching sensational has become a great listener and became an ace of the pitching staff. He even stole veteran pitchers' spotlight and he is quickly becoming a fan favorite of the Padres.
Fans are referring Mat to former Padres ace Jake Peavy. Like Peavy, Mat grew up in the Padres and started his major league career with San Diego. Jake Peavy was so loved when he was with the Padres because he spent about eight years in San Diego and won the National League CY Young Award in 2007. Peavy shared the fans ups and downs but mostly the good moments. He is now with the White Sox organization. Mat Latos can be a Cy Young candidate if he continues to keep up his great work. He is known as the next Jake Peavy but personally, Mat doesn't deserve that name because he is already better. Jake Peavy, move over. There's a new pitcher in town and his name is Mat Latos.
National League West is filled with excellent pitching such as Mat Latos himself, Ubaldo Jimenez and Tim Lincecum. Facing pitchers with big names in Major League Baseball is tough but Mat can handle the challenge. Mat's potential is telling the fans that he can accept the challenges and beat the pitching staff around the NL West. Jimenez and Lincecum? No problem.
The way Mat overcame his obstacles is unbelievable and amazing. The 22-year-old youngster is not backing down from anyone. Not even CY Young candidates for both American League and National League. New tests are waiting for him but he is ready for battle. Mat Latos is the future star of today.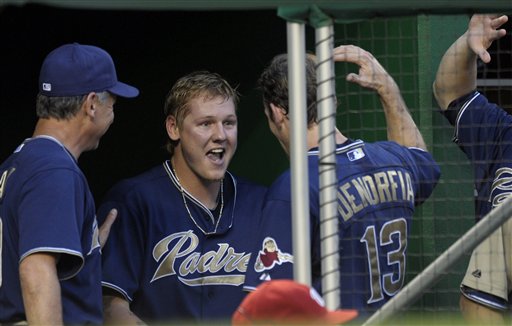 "The only way I can look back on it now is to see how I was and how I never want to be again. I just want to be the person that I am now. I've come a very long way from what I used to be."-Mat Latos